Imubit gives hydrocarbon processing leaders a way to discover and monetize new process optimization opportunities that until now were considered too complex – or even impossible to go after.
Our Imubit Closed Loop Neural Network™ Platform is an AI solution that incorporates deep hydrocarbon processing expertise, builds an accurate model of your most profitable processes, and optimizes them in closed-loop, driven by planning, with full operator controllability. Our oil refining and chemical process experts work hand-in-hand with our clients, which are among the world's largest global energy and chemical operators.
Imubit is led by globally-renowned, Google-endorsed machine learning scientists and world-class hydrocarbon processing experts. Our process is to invent new technologies that can help plants and teams achieve things considered impossible before now.
Imubit is hiring in the U.S., Europe and Israel. Learn more about open roles and careers at Imubit.
Transcendence through invention
The purpose of Imubit, and of everything we do at Imubit, is to invent new things that did not exist before and use them to transcend people beyond the limits of their own worlds and achieve things they did not consider possible. Here is how we achieve this purpose.
Unique capabilities which solve new problems
We are world leaders in our focused field of scientific research. We build fundamental scientific capabilities which are years ahead of existing literature and industrialized products. We transform clients' perception of their own business and industry by identifying and using our technology to solve problems they do not consider as solvable.
Collectively positive and tangible value
The value we generate for our clients is tangible and fundamental. Examples include utilization of energy, natural resources, and physical assets. Other examples are manufacturing production rates, yield, reliability, and safety. Some fields we avoid are algorithm and robot trading, and other technologies which maximize local value while extracting value from the collective.
Optimizing for long term through independence
We are building a long-term sustainable company which aims to dominate its space. To that end, we build long term trust-based relationships with investors, clients, partners, consultants, and employees. When making hard decisions, we do not compromise our path to long term sustainable independence and growth.
Market-focused domain experts
We explore and identify new problems by marrying our unique technology with the best domain expertise in our focused target market.
We develop unique capabilities around these new problems. We do not aspire to build a horizontal platform on which users leverage our technology to solve problems we do not understand.
End-to-end solution
We provide our clients with end-to-end solutions to the problems we identify. We take responsibility and accountability for everything between nothing to a fully working solution. We provide and support any type of products and services needed to enable our solution. We are not a feature or a side-product that require integration by third parties.
Boosting client core business
The problems we solve strongly affect our clients' core business. For example, we substantially increase our clients' profit margin and/or production revenue. We are not interested in solving low priority problems. We challenge our clients' mental limitations of the value extractable from their assets.
Build safety and operate safely
Our solutions are deeply integrated into our clients' processes. As a result, all of our products and services must comply with the same safety requirements that our clients comply with. We prioritize safety over other considerations when planning, designing, deploying, and maintaining our solutions. Any member of our team can stop any activity that they deem unsafe. Anyone can challenge other team members or leaders regarding safety.
Imubit's Houston and Israel team members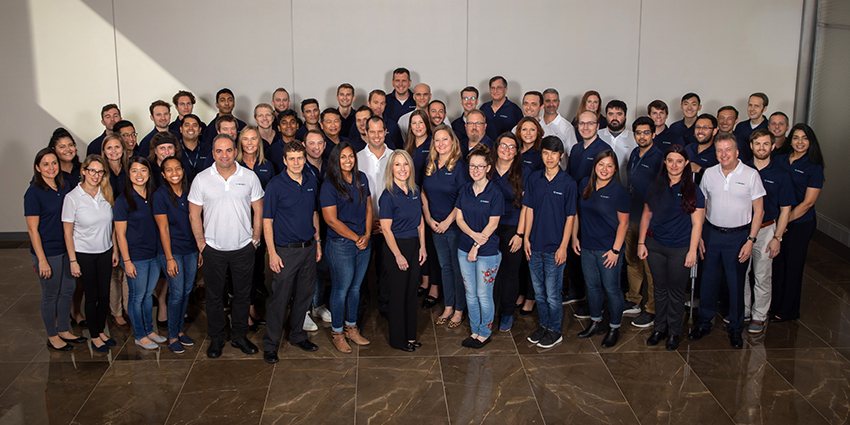 There was 60 years of refinery experience that walked in the door with Imubit for the kick-off meeting. Their industry and operations experience made them credible with the team and kept every conversation focused on taking our plant to the next level."
– Process engineering lead